Duke's Coach K: Healthcare Leaders Set the Standards, Ditch the Excuses
At the 11th Annual Spine, Orthopedic & Pain Management-Driven ASC Conference on June 13, Mike Krzyzewski, coach of men's basketball at Duke University, told anecdotes about the winning teams he's coached and spoke about the importance of standards in a business.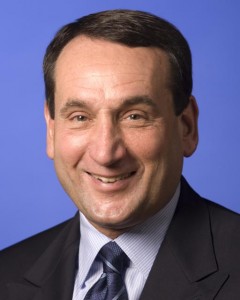 Coach K, a graduate of the U.S. Military Academy at West Point, has a medley of wins under his belt. Since has began coaching Duke's men's basketball team in 1980, he's led the team to four national championships and 11 Final Four appearances. He has also led the USA Basketball teams to gold medals for the 2008 Summer Olympics and 2012 Summer Olympics. He's not stopping there: Coach K recently signed on to coach the USA Basketball team for the 2016 Summer Olympics, as well.
When the national basketball team was about to qualify for the 2008 Summer Olympics in Beijing, China, Coach K said he held a team meeting. He gathered his players, including LeBron James, Kobe Bryant, Jason Kidd, Dwyane Wade, Carmelo Anthony and Chris Bosh, to discuss how the team was "going to live." He said the striking premise of the meeting caught the players' attention right away.
"We started using the words 'owning' and 'feeling.' How do you get 12 NBA superstars to own something? We met with them face-to-face. We said, 'In order to play for U.S., these are some of the things we expect. This is the way we are going to do things all the time,'" said Coach K.
Coach K proposed the first two standards for the team: to always look one another in the eye when speaking and to always tell the truth. "No quibbling, no half-truths. We can deal with truth head-on," he said. "If we do those two things, we'll have the single biggest thing that's the basic foundation of any relationship: trust."
Coach K then took what he called a "leap of faith" and asked his players to share standards they'd like the team to meet. Mr. Kidd said the entire team should always be on time, as this would demonstrate respect for one another. Coach K extended this idea by adding another standard: the team should show "respect for the world" by practicing to prepare to play the best. "So no bad practices," said Coach K.
Dwayne Wade said the teammates needed to have one another's back. There needed to be a sense of collective responsibility, so that even when players took bold actions, their teammates supported them. Kobe Bryant said the team needed to remember and value fundamentals, and he framed this standard by emphasizing the need to consistently play good defense and rebound. LeBron James said the team needed to lose its excuses. "That became our first standard — to never have an excuse. You don't have an excuse to not do better," said Coach K.
In the years since that meeting, Coach K said a player on the Olympic team has never arrived late and there has never been a bad practice. "They took ownership. The more they created ownership of this, the more we had a chance to win." He said the same standards can carry over to any industry, relationship or business.
"I'm in a business where I win a basketball game. You're in a management where you help people. You heal and you reduce pain. C'mon. I'm not sure you feel what you do," he said. "I think you hear about what you do and you see what you do, but you don't own it until you feel it."
Through his anecdotes about college and professional basketball, Coach K showed immense appreciation for players like Michael Jordan and Kobe Bryant who, despite being at the top of their game, adjusted their roles for the good of the team. They did not see themselves as the most important player. They did not take the most shots. During a practice prior to the 2008 Summer Olympics, for instance, Kobe Bryant did not take a single shot.
"All he did was rebound and play defense. Some people make more money than others. Some people have bigger businesses than others. Kobe was the alpha dog. He knew all the guys would look to see what he was doing. They were going to think this was all about him. He knew, coming in, that he would have to change his role for us to win. That might have to happen. Some businesses that are the alpha dog might have to change their role a little bit," said Coach K.
More Articles on Healthcare and Leadership:
10 Success Factors for an Orthopedic Center of Excellence
Lou Holtz: Leadership Tips for a Successful Healthcare Team
6 Biggest Reasons Provider Business Strategy Will Fail
© Copyright ASC COMMUNICATIONS 2017. Interested in LINKING to or REPRINTING this content? View our policies by clicking here.
To receive the latest hospital and health system business and legal news and analysis from Becker's Hospital Review, sign-up for the free Becker's Hospital Review E-weekly by clicking here.